GRADING
Ever since the days of the first two coin collectors, grading has been of utmost importance in the buying, selling and trading of coins. Grade, or the condition of a coin including the amount of wear, is one of the key factors in determining the value of any coin.
Historically, there has been little, if any, standardized system for grading coins. Different collectors would have different systems of grading coins based on different sets of criteria. What was important to one person may or may not have been important to another.
In the last several decades there have been a number of attempts to standardize grading. All of these attempts, in one way or another, have contributed to the formation of one generally accepted set of standards for grading coins. These standards are collectively known as the Official American Numismatic Association Grading Standards for United States Coins. What follows are the essential elements used to determine the verbal and numerical grades as they apply to the Roosevelt dime.
<![if !vml]>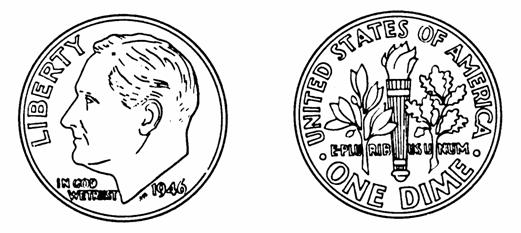 <![endif]>
MINT STATE : Absolutely no trace of wear.
MS-70 UNCIRCULATED
A flawless coin exactly as it was minted, with no
trace of wear or injury. Must have full mint luster
and brilliance or light toning. Any unusual striking
traits must be described.
MS-67 UNCIRCULATED
Virtually flawless but with very minor imperfections.
MS-65 UNCIRCULATED
No trace of wear; nearly as perfect as MS-67 except
for some small blemish. Has full mint luster but may
be unevenly toned or lightly fingermarked. A few
barely noticeable nicks or marks may be present.
MS-63 UNCIRCULATED
A mint state coin with attractive mint luster, but
noticeable detracting contact marks or minor
blemishes.
MS-60 UNCIRCULATED
A strictly Uncirculated coin with no trace of wear,
but with blemishes more obvious than MS-63. Has full
mint luster, but surface may be dull, spotted or
toned.
<![if !vml]>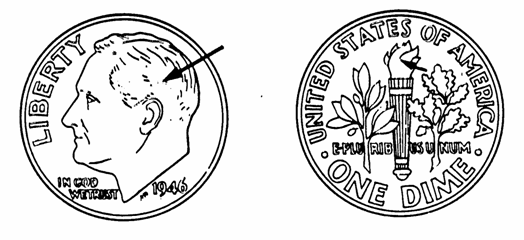 <![endif]>
ABOUT UNCIRCULATED Small trace of wear visible on highest
points.
AU-58 Very Choice
Has some signs of abrasion: high points of cheek,
and hair above ear; tops of leaves and details in
flame.
AU-55 Choice
Obverse: Only a trace of wear shows on highest
points of hair above ear.
Reverse: A trace of wear shows on highest spots of
of the flame.
Three-quarters of the mint luster is still present.
AU-50 Typical
Obverse: Traces of wear show in hair above ear.
Reverse: Traces of wear show on flame but details
are sharply defined.
Half of the mint luster is still present.
<![if !vml]>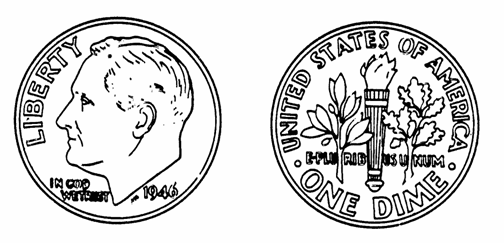 <![endif]>
EXTREEMLY FINE Very light wear on only the highest points.
EF-45 Choice
Obverse: Slight wear shows on high points of hair
above ear. Ear is sharp and detailed.
Reverse: High points of flame are lightly worn.
torch lines are clearly defined and fully separated.
Part of the mint luster is still present.
EF-40 Typical
Obverse: Wear shows on high points of hair and at
cheek line. Ear shows slight wear on upper tip.
Reverse: High points of flame, torch and leaves are
worn, but all details are clearly defined and
partially separated.
Traces of mint luster may still show.
<![if !vml]>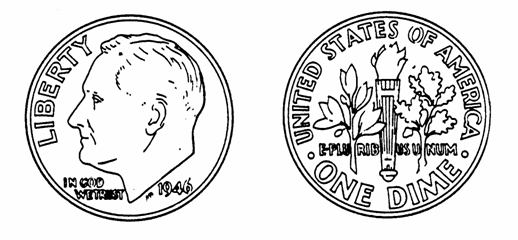 <![endif]>
VERY FINE Light to moderate even wear. All major features
are sharp.
VF-30 Choice
Obverse: Wear spots show on hair, ear, cheek and
chin. Hair details are weak but have nearly full
visible details.
Reverse: Wear shows on flame but some details are
visible. All vertical lines are plain. Most details
in the torch and leaves are clear.
VF-20 Typical
Obverse: Three-quarters of the details still show in
hair. Face worn but bold. Some details in the ear
are visible.
Reverse: Wear shows on the flame but a few lines are
visible. All torch lines are worn but bold. Most
details in leaves are clear.
<![if !vml]>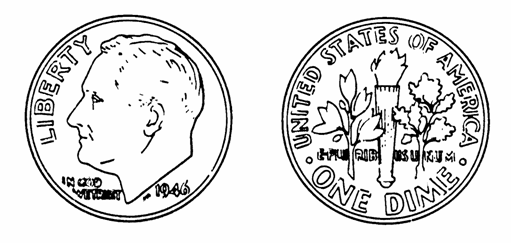 <![endif]>
FINE Moderate to heavy even wear. Entire design clear and
bold.
F-12 Obverse: Half the details show in hair. All of the
face is weak but boldly visible. Half of inner edge
of ear is worn away.
Reverse: Vertical lines are all visible, but
horizontal bands are worn smooth. Leaves show some
detail. Flame is nearly smooth.
<![if !vml]>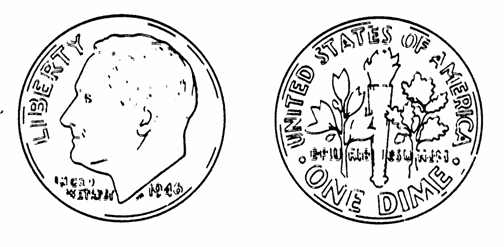 <![endif]>
VERY GOOD Well worn. Design clear but flat and lacking
details.
VG-8 Obverse: Entire head is weak, and most of the
details in hair and inner edge of ear are worn
smooth. All letters and date are clear. Rim is
complete.
Reverse: About half the outer vertical lines in
torch are visible. Flame is only outlined. Leaves
show very little detail. Rim is complete.
<![if !vml]>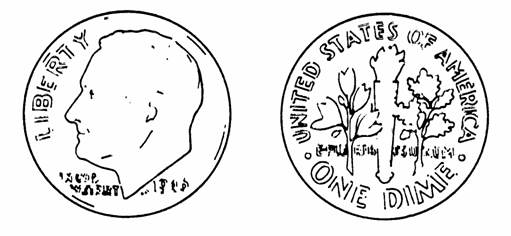 <![endif]>
GOOD Heavily worn. Design and legend visible but faint in
spots.
G-4 Obverse: Entire design well worn with very little
detail remaining. Ear is completely outlined.
legend and date are weak but visible. Rim is
visible.
Reverse: Torch is worn nearly flat but is completely
outlined. Leaves are worn smooth. Rim is visible.
<![if !vml]>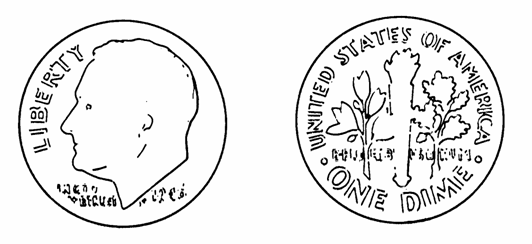 <![endif]>
ABOUT GOOD Outlined design. Parts of the date and legend
worn smooth.
AG-3 Obverse: Head is outlined with nearly all details
worn away. Date readable but worn. Legend merging
into rim.
Reverse: Entire design partially worn away. Rim
merges into legend.