1954
Comment: Walter Breen, in his noteworthy encyclopedia of US coins, mentions a variety of 1954-S that is missing the designer's initials. This variety probably resulted from the excess polishing of the working die in this area and is not the result of any design change.
1954 (Philadelphia)
Mintage: 114,010,203 + 233,300 proof (114,243,503 total)
Doubled Die List
1954 PR-1-O-VI PUP: There is extra thickness in the
date, JS top to bottom and IN
GOD WE TRUST, and head.
Note: Nicknamed "Big Head"
due to the nature of doubling.
Head appears larger than
Normal.
<![if !vml]>

<![endif]>
1954 PR-2-O-II-E PUP: Light spread on date, JS top to
bottom, and WE TRUST.
<![if !vml]>
<![endif]>
<![if !vml]>

<![endif]>
<![if !vml]>

<![endif]>
1954 PR-1-R-VI PUP: Medium extra thickness on all
lettering around the rim, both
stems, and the M of UNUM.
1954-D
Mintage:106,397,000
Repunched Mint Mark List
1954-D RPM #1
D/D North
1954-D RPM #2
D/D Rotated CW
1954-D RPM #3
D/D Rotated CCW
1954-S
Mintage: 22,860,000
1954-S
Missing JS variety
Breen # 3736
<![if !vml]>

<![endif]>
Repunched Mint Mark List
1954-S RPM # 1
S/S/S Northwest
and South
<![if !vml]>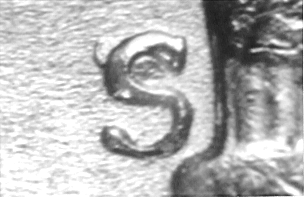 <![endif]>